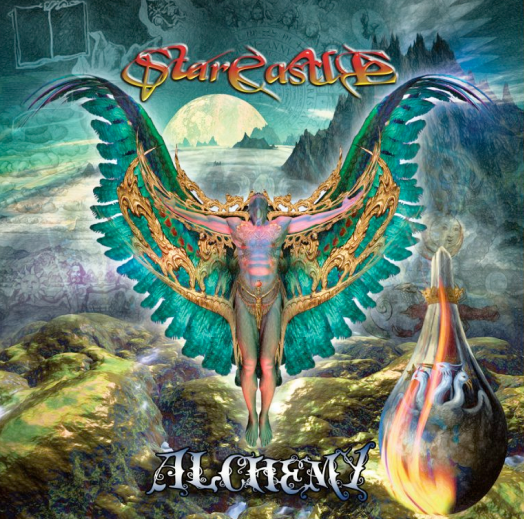 STARCASTLE "ALCHEMY"
The California Archives
This collection memorializes the very special times we shared working together while the band was based in San Francisco in the 80's. The members at that time were Gary Strater, Bruce Botts, George Harp, and Scott McKenzie. This second Starcastle archival collection was inspired by Gary Strater's work in compiling alternate versions of songs from the first four Starcastle albums, a collection entitled "Chronos 1". There had been discussions about compiling a similar collection of material from Starcastle's time in California and this lead to the creation of "Alchemy" which embodies the best available versions of each song written during our time there. It consists of studio demo recordings, rehearsals, and live performances. These recordings are the original versions of six songs you will recognize from the last album, "Song of Times" as well as a number of other unreleased songs from that time period. The songwriting process was usually very productive with each session consisting of intensive work on the songs, but always included time for sharing stories and humor. What was amazing to us all was how quickly everything came together – most of our songs were completely finished and rehearsed within just a few months. Many of the writing sessions and rehearsals were recorded so that we could analyze our progress, working out final versions of the songs as they were being developed. A bit later on, we began recording our live performances never realizing how precious and valuable they would become to us in later years. Had we known what the future would bring while we were scattered throughout the U.S and with Gary's passing in 2004, we would have recorded everything properly in the studio . . . but we are fortunate that these recordings exist and were preserved for over 30 years. With all this in mind, you should know that for live performances and rehearsals we employed the very "high tech" recording process of inserting a cassette tape into a boom box, placing it somewhere in the room and then pressing "record". Hundreds of hours of these cassette tapes exist and "Alchemy" represents what we believe are the best versions of these songs as they were written and provide the best overall mix of performance and recording quality. With the release of "Alchemy" we wanted to convey the chemistry that existed between the four of us during that very prolific time period. We hope you enjoy this archival release, that you experience the energy of each song as it originally came into being and the excitement we felt in creating it. Thanks so much to everyone who supported us with this effort both at that time and throughout the years, and we are very grateful for your continuing support.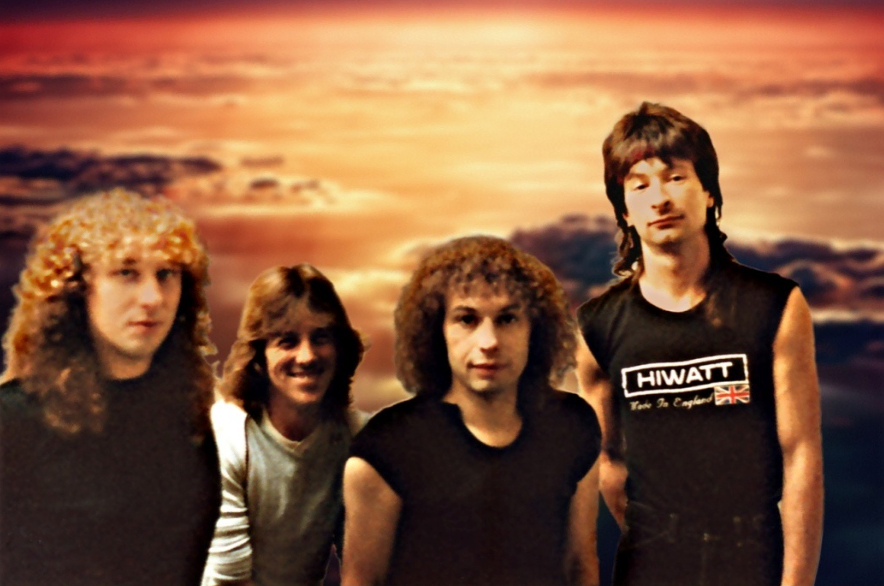 Alchemy Tracks
| Title | Runtime | Recording Location |
| --- | --- | --- |
| 1. Red Season | 3:56 | August Wolf Studios, Walnut Creek, CA |
| 2. Master Machine | 4:57 | Oakland Warehouse Recording, Oakland, CA |
| 3. The Tube | 3:36 | Live at The Cabaret, San Jose, CA |
| 4. Deep in the Night | 3:25 | Oakland WarehouseRecording, Oakland, CA |
| 5. Hearts Pounding | 3:21 | August Wolf Studios, Walnut Creek, CA |
| 6. Children Believe | 5:38 | Live at The Cabaret, San Jose, CA |
| 7. Islands | 4:38 | Oakland Warehouse Recording, Oakland, CA |
| 8. Faces of Change* | 5:14 | Oakland Warehouse Rehearsal |
| 9. Bass & Drum Solo — and — The Dash | 6:37 | Live at The Stone, San Francisco, CA |
| 10. Parade of Fools | 4:09 | August Wolf Studios, Walnut Creek, CA |
| 11. Babylon | 8:20 | Live at The Cabaret, San Jose CA |
* Introduction to Faces of Change – Gary Strater, Live at the Cabaret, San Jose, CA
Produced by: Bruce Botts 2018
Mastered by: Justin Newton of Justin Newton Audio
All Artwork: Ed Unitsky – www.facebook.com/Ed.Unitsky.fanpage
All Songs Written by Starcastle © 1985
Alchemy © 2018
Archangel 7 Music, BMI 2018
Alchemy Liner Notes
We want to share a little bit of insight on how the Alchemy material was written. A song would usually begin as a guitar riff or a bass line. We would then "jam" around that idea, adding and adjusting the song as it evolved. George would interject ideas on how parts could be changed or arranged, while at the same time he was developing the main melody and lyrics and trying out various ideas to see how they worked. We hope you enjoy this look into our composition process for the songs on Alchemy.
1. Red Season. The lyrics for this song are actually a bit of a protest against the violence and negative imagery we saw on the news and in entertainment media at the time, as well as a warning about the power and passion of the spoken word. The guitar part for the verse originally began as a bridge indifferent song that wasn't fully developed. One evening at rehearsal as Bruce was playing that riff and seeing where he might go next with it, Gary began playing a very melodic bass line against it. What Gary was playing was totally different from what he had been playing over this part originally. The band really liked this new approach and decided that it was strong enough to stand on its own as the central part of a new song. George then began working on the melody, he and Gary collaborated on the lyrics and this song eventually became Red Season. See Youtube video -Gary and Bruce discussing the Red Season songwriting process:
2. Master Machine. This is the story of an aspiring young musician and the struggle and commitment it takes to try to succeed in the music business. This was the first song the band wrote together and it came together at the very first full rehearsal. Gary started this song with that hypnotic bass line. Bruce had recently been listening to "Zenyatta Mondatta" by the Police and thought that an Andy Summers-type guitar feel would work well against Gary's fluid bass line. George began to sing the melody over the top almost immediately. The harmonies were recorded with all of us standing around one Shure SM-58 in the a very large room in the warehouse where we rehearsed.
3. The Tube. This song was inspired by the feeling that everything surrounding the band was moving very rapidly. The songs were flowing out very quickly at this point and it seemed like we were in a very fast train speeding through a tunnel with no time to see what was really going on and this was all perceived as many images flashing past us. At this time we had come to the attention of several major San Francisco management companies, among them Bill Graham, Herbie Herbert (Journey) and others. We were continuing to receive very good press on performance as well as airplay on the new material, including international recognition.
4. Deep in the Night. This song was something that Gary and George had been working on for awhile during their time in Atlanta, GA, where they met before moving to the West Coast. The idea was pretty well developed and then was reworked in California with Bruce and Scott. This is a song about soul searching and relationships.
5. Hearts Pounding. This is a song about adolescent love, both passionate and reckless and was another song that Gary and George had previously been developing before the whole band had come together. While the band was in the studio recording this song, a representative from Roland asked us to try out the new GR-700 guitar synthesizer. This was one of the first guitar synths available and was plagued by tracking issues, causing it to randomly play notes that weren't being played and ignore notes that were. After spending hours trying to coax something usable out of this futuristic (at the time) piece of equipment, the opening 5 seconds of "Hearts" is what we deemed would work. Still, it made for an interesting night.
6. Children Believe. This was written from the perspective of parents and their hope for the future – that our children avoid the pitfalls that we didn't as well as the innocence of children and how we can learn so much from them. Our hope was that these children who are now the millennials would lead all of us to a better future. This song was constructed from several parts that were originally in other songs. The introduction was originally written for a more mellow piece that was intended to be performed on acoustic guitar. That song idea was eventually abandoned, but we felt it was strong and worked well as an intro. George's lyrics and melody gave the song a very dynamic feel that reinforced the concept and really brought it to life.
7. Islands. Sometimes the songs flowed easily and took shape quickly but Islands wasn't one of those songs. While Gary, Bruce and Scott worked out the basics and tried a number of different approaches to finish the structure, George sat with his lyric notebook and listened, offering occasional suggestions but not singing anything. This carried on for a couple of weeks. We would work on it for awhile at each rehearsal then drop it and move on to work on something else. One night as we were wrestling with it again, George suddenly began furiously writing in his notebook. The entire melody and lyrics came to him all at once. Within a few minutes the song we had labored over for months had a melodic direction and we were able to finish it that night. The song is biographical in that it's about the band itself being patient, grounded and focused. We felt we were like an island while the conditions of the world and everything in it moved around us.
8. Faces of Change. This is Gary's introduction to "Faces of Change" and his thoughts on the meaning of the lyrics from the show at The Cabaret in San Jose. "This is a song about what you always avoid in your life. No matter how hard you fight it, it always shows up anyway. It's called Faces of Change." The structure for Faces of Change was based around an open tuning. While Bruce was discussing some favorite Led Zeppelin songs with a friend who was also guitar player, his friend explained the DADGAD tuning which Jimmy Page used extensively, and how it worked by creating a kind of droning quality to the music. That night at rehearsal while Bruce was waiting for everyone else, he re-tuned his guitar from standard tuning, EADGBE, to the DADGAD tuning and began experimenting, eventually coaxing out an interesting rhythmic and melodic line. Scott McKenzie arrived soon after and immediately sat down behind his drums and started playing a terrific groove to what Bruce was playing. Gary joined in and a rough arrangement was worked out a while George Harp was listening, developing a melody and writing lyrics, with the whole song coming together in just a few hours. Over time there were several different arrangements of the song, some that were significantly different, which could and did sometimes cause a moment of panic during a performance. The Alchemy version was recorded at the band's rehearsal warehouse only a few nights after it had been written.
9. Drum & Bass Solo. Recorded at The Stone in San Francisco, this composition was put into the set originally as a buffer during live performances. It was played immediately after Faces of Change so that Bruce's guitar could be re-tuned to standard tuning and it became a showcase for Gary and Scott. They put together a couple of different versions of this live and it always received enthusiastic crowd response. This showcase spot was always immediately followed by The Dash, below.
10. The Dash. This began as a warm up bass exercise that Gary had been doing for years going back to the early Starcastle days in the 70's. While Gary was warming up one night, chord changes came to Bruce with almost no thought and this developed into a very high energy song that brought people to their feet at every show. The song was really the result of a spontaneous jam. Later it was given more structure and emerged as a song in its own right. This was another one that was written very quickly.
11. Parade of Fools. This song is about people engaging with each other without knowing what the emotional cost will be. Looking back on the situations they might call it a "parade of fools". Parade of Fools actually began as Gary and Scott were just exploring variations on Gary's bass line which was in an unusual time signature. After they had solidified that part we decided that it needed more development and we put it away. Several nights later Gary came in with an idea that we expanded upon to build the rest of the song and once we had that nailed down everything else fell into place pretty quickly.
12. Babylon. This song reflected Gary's interest in and study of Egyptian religion and hieroglyphics which were crucial to the development of the lyrics. The lyrics for Babylon used a lot of symbolism based on Gary's studies of esoteric religions and concepts. The music came about almost accidentally. One evening at rehearsal Gary was adjusting the tone controls on his amp setup. In order to hear the effect of the adjustment he was making, he was picking an open string in a very specific rhythmic pattern with one hand while adjusting the amp controls with the other hand and listening. Thinking that Gary was actually presenting a new idea Bruce began playing chord changes over this pattern. This prompted Scott to begin playing as well and the basic idea for music of Babylon was born. As the idea developed and expanded George began work on the melody. Over the next few days George and Gary collaborated on the lyrics and harmonies. The way this song was written wasn't unusual for the band. Most of the songs developed during this time could be inspired by almost anything, from someone's idea or a riff that we would play with, rearrange and expand on. These songs could be inspired by words, vocal melodies or a few chord changes or even a drum pattern. Rarely was a complete song presented but when that did happen it was always tweaked in some way until we all felt it was right.
Group Photo Credit: Lynne Botts
Group Photo Editing: Christopher W. Duncan
Rehearsal Photos Credit Oakland CA: Lynne Botts