Here is the current lineup for Starcastle
George Harp
George became interested in music at a very young age. While still a very young toddler he would sneak into the attic of his home and was found by his parents transfixed by his uncle's instrument collection that was stored there – an upright bass, guitar, violins and an accordion. His uncle Paul was a guitar player and was largely responsible for his interest in music. While watching him play, George became enamored with the chords and melodies and he allowed George to learn to play on his Les Paul.
His parents were not happy that he focused on music, telling him "you will end up like your uncle, don't be a dreamer like that Paul". George felt that without dreams you have nothing. But eventually his Mom bought him a guitar, bass and amps and George decided to start his first band in junior high school, joining with a few neighborhood kids. He began performing at the age of 15 in his hometown near Seattle, WA, played in a number of local bands as a bass player which then evolved into also doing lead and backing vocals and eventually he focused on lead vocals.
Several years later while working in Prince Rupert, Canada his band was opening for a number of groups. While working with yet another group, Roy Yeager of Atlanta Rhythm Section invited George to join him in Atlanta to sing on a demo that he was working on. Someone heard the demos and recommended that he get in touch with Gary Strater who was living in Atlanta and looking for a lead vocalist for a re-formed Starcastle. After a few false starts in Atlanta, Gary relocated to San Francisco and invited George to join him there where he and Gary met Bruce Botts. Starcastle was re-formed and George was finally was able to focus on singing and developing his songwriting skills, co-writing the material on both Starcastle's "Song of Times" and "Alchemy" with Gary and Bruce, as well as co-writing material in Pangea with Bruce. George has been composing over the years and reconnected with Bruce in Cincinnati which brought about the re-launch of Starcastle.
To contact George – starcastle@fuse.net
Bruce Botts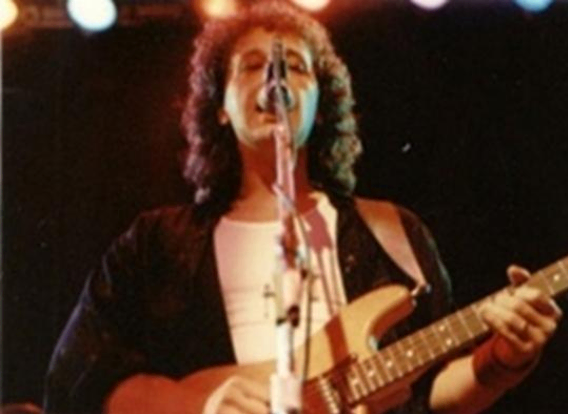 Bruce began his musical journey early in life. Fascinated as a child by any music he heard, he made the connection between the sounds he was captivated by and the old piano in their home that no one played. His father told him that as a young child he would climb up on the piano bench and rather than pounding on the keys like other kids, he would pick out tunes.
At age 7 after begging for piano lessons he was enrolled in a school piano program which he then abandoned after a few weeks since they weren't actually teaching him to play piano. They were giving the students a paper keyboard to learn on and he was dismayed to find that no music was coming out of it. Around the same time he spent the entire night watching the band at his sister's wedding and realized that this was what he wanted to do.
A short time later he was given an old acoustic guitar by a family friend and was immediately consumed with the instrument. After saving his money from odd jobs, he bought his first electric guitar at age 11 and a few years later his Mom bought him a very small amp with S&H green stamps that had one 3" speaker.
Bruce played in numerous local Cincinnati groups over the years playing cover material but over time he became most interested in composing original music which eventually led to the life-changing decision to move from the Midwest to California. He and his young family settled in the San Francisco Bay area where he came to the attention of Gary Strater and George Harp in a coincidental meeting. Although Gary and Bruce had not yet met, Gary told a mutual musician friend that he was re-forming Starcastle and asked if he knew anyone that would be a good fit. Bruce was then introduced to Gary as "the guitar player you've been looking for". Gary, George and Bruce then found Scott McKenzie, a young very talented drummer living in the East Bay, and the four of them began working together. Starcastle wrote and performed many songs during that very prolific period, many of which were recorded on Starcastle's "Song of Times", as well as on the Starcastle archival album "Alchemy".
After George and Bruce moved back to the Midwest, they formed another group, Pangea, in Cincinnati OH in the late 80's and wrote and performed many new songs together. After going their separate ways to focus on their family lives, they reconnected about 10 years ago and began writing new material several years ago, leading to their eventual connection with Jim, Matt and Tim – and the re-formation of Starcastle.
To contact Bruce – starcastle@fuse.net
Jim Questa
When Jim was just shy of 5 years old his parents received a phone call from a neighbor down the street. His parents came over and listened as Jim picked out the melodies of songs he heard during music time in kindergarten. That Christmas a Magnus chord organ found it's way to the Questa household – Jim wore it out in 4 months. With the mindset that an organ makes many more sounds than a piano, his parents bought an organ. With the organ came 3 cassette tapes of home lessons which Jim devoured in weeks. The more songs Jim heard, the more melodies he picked out – by the time he was 6 he knew over 40 songs.
Jim started taking lessons at age 6, developing his ear and leaning the basics of reading music. At age 8 Jim was offered piano lessons at the prestigious Cincinnati College Conservatory of Music. Throughout his school years Jim was playing at shopping centers, store openings, trade shows, and nearly any other opportunity his parents could find for him. He appeared on numerous TV shows, recorded a 45 including an original composition of his, and appeared on Walt Disney's "New Mickey Mouse Club" as a Showtime guest.
While attending college Jim found himself playing in various local cover bands. In 1990 he joined Mara which started out as a progressive cover band, and morphed into an original project. With the luxury of their own recording studio, Jim cut his teeth on writing and recording songs for their first release – Breaking The Silence. Mara would go on to learn a group of cover songs that complimented their original material and they started to play shows around the Cincinnati and Dayton Ohio area.
During the writing and recording sessions for their follow up album – Poetry In Motion – Jim received a call from singer/song-writer Danny Morgan. Jim saw this as an opportunity to become a full time working musician, and he accepted Danny's offer. Jim would play keyboard and keyboard bass and sang background vocals at some of the most prestigious locations in both Cincinnati and across the State of Florida.
After 15 months family obligations forced Jim to return home. Jim's reputation for being a meticulous performer and sound designer meant he was contacted by some of Cincinnati's best performing groups. Jim would perform in various cover bans around the midwest for the next 28 years
With a desire to revisit his progressive roots, Jim formed a progressive cover band called Into the Listening Glass with drummer Tim Baker. They would play a couple of shows, but the project quickly disolved. Jim was looking to reform ITLG when a mutual friend introduced him to Bruce Botts. Jim added some keyboard parts to a couple of demos which lead to Jim's addition to StarCastle's roster.
To contact Jim – https://www.facebook.com/jimquestamusic/
Matt Wiles
Matt Wiles, a native of New Jersey began his musical journey at age 8 when he first saw an accordion and was fascinated by the way it looked. His parents had given him a CD that featured accordion music which was dominated with Zydeco and Cajun music. When their search for an accordion teacher proved futile, Matt was enrolled in piano lessons and as his talent became evident his piano training continued. At 14 a friend who played drums got him interested in bass guitar and the two of them started a band learning popular music of the day. His friend recommend listening to different bass players that were using the slapping technique which he had never heard before, this spurred an interest in bands like Primus and Progressive Rock in general. He attended Northern Kentucky University on a classical piano scholarship while still continuing to pursue his interest in the bass. Although a piano major, he also received instruction on bass through the college music department's bass instructor, while playing acoustic and electric bass in various situations.
After graduating Matt decided to focus his attention on the bass full time. Matt's unique abilities and approach drew the attention of many who required a player of his impressive skill. Matt is an in-demand acoustic and electric bassist playing on numerous recording sessions in a wide variety of genres as well as uncounted live performances throughout the United States.
Matt has performed with many highly acclaimed artists such as Gary Versace, Colin Stranahan, Noah Preminger, JD Allen, Fareed Haque, Peter Mazza, Teddy Kumpel, Glenn Zaleski, Victor Provost, Sam Blakeslee, and The Drifters.
Matt can be heard on stage with jazz/rock/fusion band Spherical Agenda, and his playing is featured on the albums Drift by electronic-jazz band Art & Science, Infinite Loop by Cincinnati-based jazz guitarist/composer Brandon Coleman, Album II by Brazilian saxophonist/composer Thomaz Souza, and others.
To contact Matt – https://www.facebook.com/matt.wiles1
Tim Baker
Tim is a native of Trenton Ohio and he comes from a musical family – his father played the drums in high school and his mother sang and played the piano. He began playing drums around age 8 on his own using whatever was around the house – paint buckets, books and waste baskets. With a makeshift set of wastebaskets and books, he began playing along to records. One of his favorites was the first Boston album and he was also playing along to The Monkees and Kiss.
He started in the school band in 5th grade only to drop out three months later from lack of interest. The band class in percussion was moving too slowly and he was playing to albums but not really knowing what he was playing. In eighth grade he got his first drum set. He spent every day playing along with records, everything from Barry Manilow to Kansas to Blood Sweat and Tears. Soon after he rejoined the high school band where he also studied piano and learned to read music. Tim played in the school band throughout his high school years including marching band and concert band.
Tim holds a Bachelor of Music degree from Miami University and he also studied at Morehead State University in Kentucky. Tim performed in show bands at the Kings Island Amusement Park from 1988 to 1996. During and after that time he also played with various cover bands playing rock, metal and jazz. Tim has also taught private drum lessons for many years as well as teaching middle and high school band in the public school systems. Tim's influences include Carl Palmer, Neil Peart, Phil Ehart, Vinnie Coluita, Dave Weckl and Steve Smith.
To contact Tim: https://www.facebook.com/tim.baker.376